Known Issues:
- Common -
● (Checking) Time Attack history differs from actual time


- PC Platform -
● Some out-of-date graphics card drivers do not run the game normally.
✅ Workaround: Please update each manufacturer's latest graphics driver and play the game. Check and download the latest graphics card drivers:
- NVIDIA Graphics Card Driver
- AMD Graphics Card Driver

● When running KartRider: Drift on a PC that uses an Intel CPU (6th gen or higher) internal graphics card (also known as integrated graphics), the game may disconnect or close.
✅ Workaround: Please update the compatibility mode of the game executable file to "Windows 7" and then run the game.
- The game executable is "Kartdrift.exe" within the installation folder. If you are on Steam, simply right click the game and select "Properties" -> "Local Files" -> "Browse." If you are on Nexon launcher see the below image for the default file path.



- Right-click the executable file, then select the "Compatibility" tab, from there please change the compatibility mode to "Windows 7."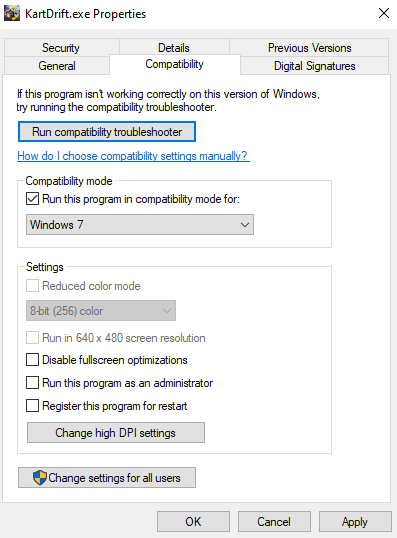 - Mobile Platform -
● Voice chat does not function on iOS devices after locking the screen or putting KartRider: Drift in the background.
✅ Workaround: You can use the voice chat by closing the game application and restarting.

● Voice chat is heard from the device on the iOS device when using some Bluetooth devices and entering a custom race.
✅ Workaround: Connect the affected Bluetooth device again after entering the custom race.

● (Checking) When upgrading a kart while playing on a mobile device, sometimes a screen will appear accompanied by UI noise.

● (Checking) Pop-up screen is being exposed when you log-out from the game on iOS / AOS platform.
✅ Workaround: Selecting "OK" (the blue button) will allow you to return to normal gameplay.

● (Checking) An issue where the UI shakes in some devices in the [Change Mode] - [Options] screen.

● (Checking) When claiming coupon items from [Settings] - [Manage Account] - [Apply Coupon] in Android devices, the title of the pop-up is displayed in Korean.



We apologize for any inconveniences caused by these issues.
We promise to work as quickly as possible to resolve these!



- Fixed Issues -
Issue: (FIXED Mar. 8) Some Racers were disconnected, and then restricted from matchmaking, due to a data setting error during Grand Prix matches.
✅ Solution: Affected Racers who were unable to matchmake as a result of these restrictions will have the matchmaking restriction lifted, and will also receive 2,000 Lucci.
Compensation will be sent to the Mailbox, and will expire after 30 days.