- Common -

Issue: Previous Time Attack records from previous beta tests still appear.
- Racers who participated in previous beta tests might have a Time Attack shadow appear due to the above issue.
✅ Solution: Please uninstall the test client or game application and proceed with a new installation.

Issue: I have a two person party. After queuing for Squad Mode, selecting "Quick Match" searched for both DUO and Squad mode.
✅ Solution: When in a party of 2 you must adjust your quick match settings after queuing for Squad.



- PC Platform -

Issue: (Checking) After changing my audio settings and returning to the main menu my changes reset!
✅ Solution: Please ensure you save your settings. When changing your settings, you should always finish by selecting "Save and Exit."

Issue: The game may not run properly with some graphics card drivers that have not been updated to the latest version.
✅ Solution: Please update your graphics card drivers to the latest versions for your card's each manufacturer before launching, and then run the game.
Latest Graphics Card Driver Check and Download:
-NVIDIA Graphics Card Driver
-AMD Graphics Card Driver

Issue: When running KartRider: Drift on a PC that uses an Intel CPU (6th gen or higher) internal graphics card (also known as integrated graphics), the game may disconnect or close.
✅ Solution: Please update the compatibility mode of the game executable file to "Windows 7" and then run the game.
- The game executable is "Kartdrift.exe" within the installation folder. If you are on Steam, simply right click the game and select "Properties" -> "Local Files" -> "Browse." If you are on Nexon launcher see the below image for the default file path.



- Right-click the executable file, then select the "Compatibility" tab, from there please change the compatibility mode to "Windows 7."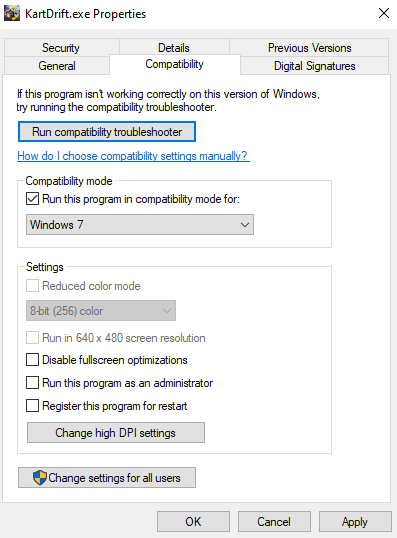 - Mobile Platform -
Issue: The hit warning effect doesn't display properly when targeted by Water Wisp or Missile items on some devices.
- This sometimes occurs on the Galaxy S21 device.
✅ Solution: Please update to the latest AOS version.

Issue: Voice chat does not function on iOS devices after locking the screen or putting KartRider: Drift in the background.
✅ Solution: You can use the voice chat by closing the game application and restarting.

Issue: Voice chat is heard from the device on the iOS device when using some Bluetooth devices and entering a custom race.
✅ Solution: Connect the affected Bluetooth device again after entering the custom race.

Issue: After selecting [Custom] as your control method on Android and iOS devices, playing a License mission may cause KartRider: Drift to crash.
✅Solution: Enable one of the standard Control Types (A, B, or C) to more reliably access License missions.



We would like to apologize once more for any inconvenience caused by these issues. We will continue to review new issues as quickly as possible.